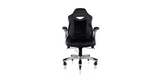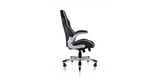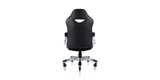 DETAILS
Take the grind out of grinding with The Velour Office Chair. Because instead of peeling yourself out of your chair after a computer session we created a chair with a plush microvelvet cush for your never-to-be-PWNed-again tush. FlipAdjust Armrests, Cut-Out Backrest and "Blade Wheels" make this chair so comfy you may never go AFK.
FEATURES
FlipAdjust Armrests: Flip up and down for controller freedom or stability
Plush Microvelvet Fabric and High Density Foam Padding for comfort
Cutout Backrest for Optimized Airflow
Glide across hardwood and linoleum floors on your set of Rollerblade "Wheels"
135 Degree Cable Synchro Fingertip Tilt and Lift with Tilt Lock
Class-4 Heavy Duty Hydraulic Gas Lift
DIMENSIONS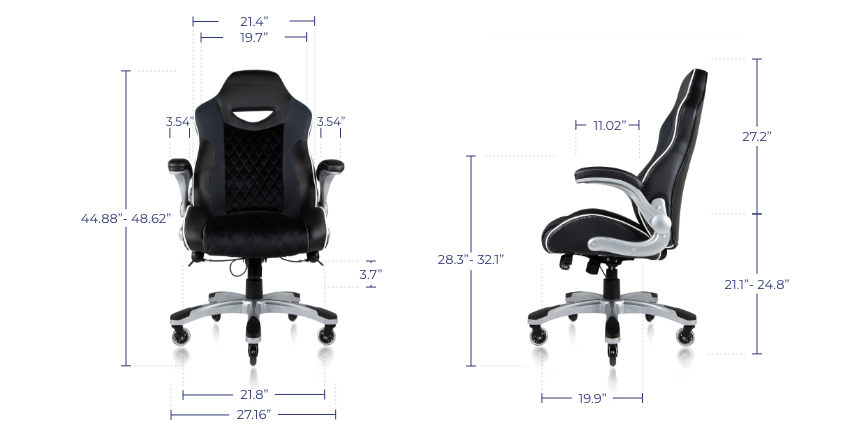 • Width 27.16" x Depth 29.92" x Max Height 48.62" 
CONSTRUCTION
Microvelvet and SoftGrip PU Armrests
5-Point Two Tone, HD Nylon Base
5'4" – 6'2" (See Diagram for Exact Measurements)
*3-year base warranty. Visit nouhaus.com/warranty for more info.
Ergonomic gaming chair
VELOUR
Stop Getting PWNED By Your gaming Chair
Every gamer knows that comfort counts when it comes to gaming chairs. And the more comfort, the better the work! Less distraction = less chance of getting PWNed at that critical moment. So, go ahead, take a seat, and feel the difference. It's for workers who CARE about their chair!
Velvet Cush for Your Tush
Forget about peeling your sticky legs off unforgiving vinyl, because we've used a plush microvelvet fabric center panel wrapped around High Density Foam for a seat that conforms to your body while you're online, and bounces back to its original shape when you're AFK.
Strong 5 Point Base
Our 5-Point Base with dual castors gives greater stability and strength. With a 23" wide seat makes this heavy-duty chair ideal for up to 240lbs.
Fingertip Recline and Lift
No more butterfly levers that make you reach right under the seat, because now you can reposition 8x faster with easy to reach cable switches.
Blade Casters
Glide across your hardwood floor, lino, or tiles at lightning speed, grab your coffee and glide back without missing a single keystroke.
Flip Up Arms for Greater Console Control
Our unique flip armrest lets you choose whether to rest your arms as you play or raise them up for more room to move your arms around. And of course, it also means you can tuck your chair close to your computer desk leaving you more room in your bedroom, lounge, or game room! And when you're getting PWNed you can sit back in your functional gaming chair, arms at rest on those comfy armpads as you watch the scene unfold around you.
Available In Grey Plush
The Velour comes in Grey Plush to match your décor.