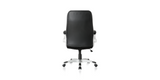 DETAILS
Is it an executive chair, NOU-Mid Century Modern Design or an ergonomic powerhouse? More to the point, why should you have to choose? With its Click5 Lumbar Support, FlipAdjust Armrests, PU Leather Fabric, ReclineRock and Classic Colors, it's all, and anything you want it to be.
FEATURES
FlipAdjust Armrests: Flip up and down to create an armless chair when you need it
Click5 Lumbar Support: For 5 Degrees of Optimized Back Comfort
Supportive Open Cell Foam Cushion and Stylish PU Leather Fabric: Support and style
ReclineRock to create a gentle rocking sensation, back and forwards
Class-4 Heavy Duty Hydraulic Gas Lift
DIMENSIONS
• Width 27.55" x Depth 26.77" x Max Height 47.04" 
CONSTRUCTION
Ergonomic Office Chair / Executive Chair
Open Cell Foam, PU Leather Fabric and Soft PU Coated Armrests
5-Point HD Nylon Wheelbase / Reinforced Ribs and Gussets
5'4" – 6'2"
(See Diagram for Exact Measurements)
*3-year base warranty. Visit nouhaus.com/warranty for more info.
["$319.99,$349.99","$319.99,$349.99","$319.99,$349.99"] {"cart":{"is_show_recommend":false,"is_have_confetti":true,"is_continue_button":true},"colors":{"primary_color":"#7c43ff","background_color":"#ffffff","text_color":"#32245e","highlight_color":"#FF0101","progressBarBackground_color":"#deddeb"},"banner":{"is_desktop_show":true,"is_mobile_show":true,"is_desktop_progress":true,"is_mobile_progress":true,"is_desktop_text":true,"is_mobile_text":true,"targeting":"all","is_have_close":true,"z_index":100,"offset":0}} ["$1.00"] ["$1.00 USD"] /cart /