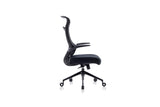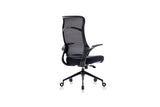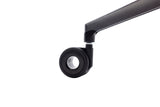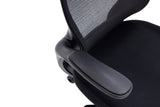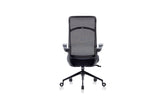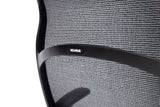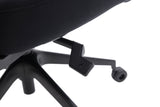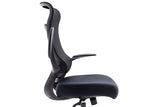 DETAILS
Wave - Small Office Chairs, Big On Ambition.
To be an ergonomic chair, it seems you have to have all the gadgets known to man, in a bulky frame that makes your swivel chair look a little too big for the room it was placed in.
But that was before Wave, the new ergonomic back support office chair by Nouhaus.
Because of its minimalist size, you'd be forgiven for thinking it's just a home office chair or small desk chair, but this office desk chair packs generous functionality into one frameless, space-saving high back office chair.
FEATURES
Active Mode: 360 Degree Rocking Office Chair


Flip up arms let you choose with arms or armless office chair

Heavy Duty Office Chair, 5-Point Aluminum Alloy Base

Breathable Mesh Office Chair Back Support is buoyant and weightless

High Density Foam and ElastoFabric Seat makes it the Most Comfortable Office Chair!

Hollow Caster Wheels, Silent and Smooth with 360Deg Rotation

360 Degree Spinning Chair

Ergonomic computer Chair Seat Lift 20-23inches

Mesh Chair features Tilt Tension Dial and 122deg Tilt Recline

Available in grey desk chair or black mesh desk chair.

Decor friendly, space saving study chair, dorm chair and work from home essentials
DIMENSIONS
• Width 26.38" x Depth 25.59" x Max Height 47.05"
CONSTRUCTION
ElastoFabric for Seat / Mesh for Backrest
5-Point ADC 12 Aluminum Wheelbase
5'2" – 6'3"
(See Diagram for Exact Measurements)
*3-year base warranty. Visit nouhaus.com/warranty for more info.
["$219.99,$249.99","$219.99,$249.99"] {"cart":{"is_show_recommend":false,"is_have_confetti":true,"is_continue_button":true},"colors":{"primary_color":"#7c43ff","background_color":"#ffffff","text_color":"#32245e","highlight_color":"#FF0101","progressBarBackground_color":"#deddeb"},"banner":{"is_desktop_show":true,"is_mobile_show":true,"is_desktop_progress":true,"is_mobile_progress":true,"is_desktop_text":true,"is_mobile_text":true,"targeting":"all","is_have_close":true,"z_index":100,"offset":0}} ["$1.00"] ["$1.00 USD"] /cart /